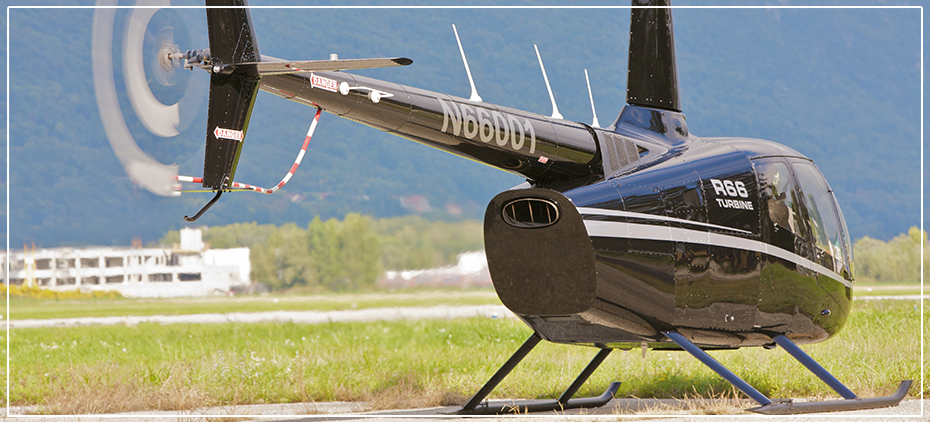 Robinson Distributor
Since 1996, SMVT HELI TECH is an authorized dealer of the European helicopter manufacturer ROBINSON HELICOPTER. Leader in the sale of new and pre-owned helicopters, engines, communication and navigation instruments and helicopter maintenance, our company is located on the Chambéry-Aix les Bains airport, in the department of Viviers-du-Lac.
Robinson Helicopter :
The international leader
World's leading manufacturer of civil helicopters, ROBINSON HELICOPTER is famous with its reliability, high performance and the low operational cost of its aircrafts.
Founded in 1973 by Frank Robinson, ROBINSON HELICOPTER employs approximately 1200 employees and produces more helicopters per year, than all North American manufacturers get together.
Besides the production lines, the company uses a specific chain for reconditioning of the aircrafts at end of the production cycle, which guarantees the commissioning of large number of helicopters. In addition, Robinson conducts monthly safety courses for helicopter flight instructors and maintenance technicians. The broad dealer network of ROBINSON HELICOPTER includes 110 distributors and 290 service centers in more than 50 countries, including China and Russia.
Robinson is an engineering company that places great emphasis on research and development.
During the last few years the company's efforts are focused on the design improvement of the R22 and R44 in order to enhance performance and minimize maintenance costs.
Among some of the more recent innovations, we should notice the hydraulic commands and the configuration's diversification of the R44.
The R44 CLIPPER, outfitted with fixed or pop-out floats, facilitates the maneuvers in marine environment.
The R44 POLICE is especially developed for the forces of order and air surveillance teams.
The R44 Newscopter is the first airline platform specifically designed for high quality live television broadcasting.
The company's modern infrastructure has been specially created for ROBINSON HELICOPTER to guarantee a high-quality production.
The manufacturing processes, assisted by a computer, allowed a rationalization, which is relatively rare for the aerospace industry.
ROBINSON HELICOPTER has been one of the first American companies to receive ISO 9001 Certification.
To maintain the highest quality standards, most of the manufacturing operations are performed at ROBINSON's fabrication facility, in Torrance (California).
In 2010 Robinson added new manufacturing units, and its capacity increased to 80%.